The home theater category has generated a lot of consumer interest, but demonstrating the equipment can present difficulties for retailers. Sunshine Electronics Inc has addressed this problem with the HTD-LED5 home theater demonstrator. The demonstrator shows the benefits of adding home theater components, breaking the procedure down into 5 segments that become increasingly more sophisticated.
Montgomery Ward's Electric Avenue
HOLLYWOOD, Fla. Dreaming up methods of explaining home theater in terms the average consumer can understand is a project keeping many retail and manufacturing executives burning the midnight oil.
Montgomery Ward's Electric Avenue is currently testing a device, nicknamed the Big Red Button, to solve this problem. Dirk Kenawell, the chain's audio buyer, said the system has been in use for about three months and he is very excited about its possibilities. Although the HTD-LED5 is capable of leading a customer through the vagaries of home theater it is not a replacement for sales staffers, he said.
"Many people still have a lot of questions about home theater when the demonstration is done. But it is important to use it as a tool for the sales associates," said Kenawell, adding on the average the display is activated about 15 times each weekday and almost three times as many on weekend.
Because the Big Red Button, officially known as HTD-LED5, incorporates several different product lines in its demonstration such as hi-fi VCRs, surround sound speakers and Dolby Pro Logic receivers sales increases for these individual products should to increase, said Kenawell.
"We never had a method of showing how home theater works from monaural sound to stereo and then kicking in the sub-woofer," he said, adding Montgomery Ward will make a decision whether to purchase about 250 units in the immediate future.
Sunshine Electronics Inc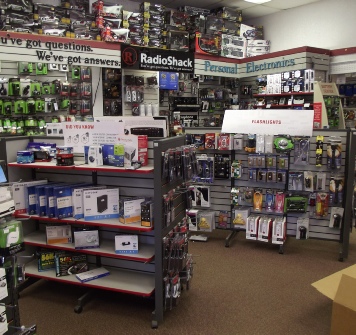 According to Steve Sunshine, Sunshine Electronics Inc.'s (SEI) marketing manager, the most difficult situation facing audio/video retailers in today's marketplace is effectively demonstrating home theater to consumers on the store floor. To cure this problem SEI created the HTD-LED5 home theater demonstrator.
By pressing a large red button (hence the nickname), situated on a stand-alone console, the consumer initiates a step-by-step demo that exactly explains how home theater works. The button is in the midst of a basic home theater setup that includes a 4-foot by 3-foot sign placed in back of the TV indicating what level of home theater is playing, such as plain TV or Dolby Pro Logic.
Pushing the button starts a five-step demonstration, which is stored on a laserdisc and the length of which can be adjusted by the sales staff, showing how the sound is improved as various home theater components are added. The first segment contains plain monaural TV and is followed by stereo TV. The next two sections, which SEI recommends to be twice as long as the previous ones, contain stereo system sound and then a subwoofer. The final phase, which again should double in length, has full blown Dolby Pro Logic.
"Retailers want to control their displays and only need to show the best part of the movie instead of just letting a show play continuously and our product does that," said Sunshine.
Currently the system can be found in about 125 retailers and according to Sunshine that number will increase to 1,000 by the end of next year. In addition to the HTD-LED5, Sunshine Electronics developed diminutive versions of the display for smaller retailers capable of playing the demonstration, but lack the display sign.
Another electronics retailer experimenting with the HTD-LED5 is the Winston-Salem, N.C.-based Ed Kelley Inc. According to Scott Poole, merchandise manager, the 13-store chain has been using it during trade shows, but plans to bring the demonstrator into about half their stores this month.
Poole called the device "very impressive," adding, customers seem to relate to it very well and it does a fine job of leading them through home theater. Better than the method previously used, generally popping in a laserdisc and playing an action scene from a movie, said Poole.
Even before Sunshine came out with its own model, Harvey Electronics Inc., a seven-store chain based in Secaucus, N.J., developed what it calls the first such demonstrator, said Franklin Karp, vice president of merchandising.
Working a manner similar to the Big Red Button, Harvey's button carries a sign stating, "Don't touch this button unless you want to change the way you watch TV forever."