FROM BUDGET TO BLOWOUT
MAKING YOUR FAVORITE ROOM IN THE HOUSE MORE BEAUTIFUL AND FUNCTIONAL DOESN'T HAVE TO MEAN RENOVATING OR BREAKING THE BANK. FROM CHANGING THE PAINT COLOR TO INSTALLING A NEW STOVE, HERE ARE DOZENS OF INSPIRING WAYS TO UPDATE YOUR KITCHEN NOW.
NAB LUXURY APPLIANCES AT A BUDGET PRICE
Viking, maker of trophy ranges, has launched an affordable Designer Series line. For under five figures, you can get the range, fridge, dishwasher, and combination microwave/vent of your kitchen-obsessed dreams.
vikingrange.com for stores; complete kitchens from $8,500
SPLURGE ON PAINT
Top-notch paint provides a thicker, more even coat that makes a paint job last longer. It costs more than others, but saves money over time. Farrow & Ball "Eco Full Gloss" and Sherwin-Williams "Duration Home" are low-odor, with few or no VOCs (volatile organic compounds), which have been linked to nervous-system and respiratory illness. Sherwin-Williams's "ColorSnap" iPhone app will find a match to the color of your favorite sorbet flavor, peach variety, or tablecloth.
sherwin-williams.com for stores; farrow-ball.com; $45 to $99 per gallon
DIM THE LIGHTS
The kitchen is your second living room, and putting kitchen lights on dimmers turns task lighting into mood lighting as fast as you can say "Dinner's on."
"Maestro," "Diva," and "Lyneo" dimmers; lutron.com; from $27
BUY TIP-TOP KNIVES
Knives are the most important kitchen tools you own: Invest in these four must-haves and they'll be the last you'll ever need to buy.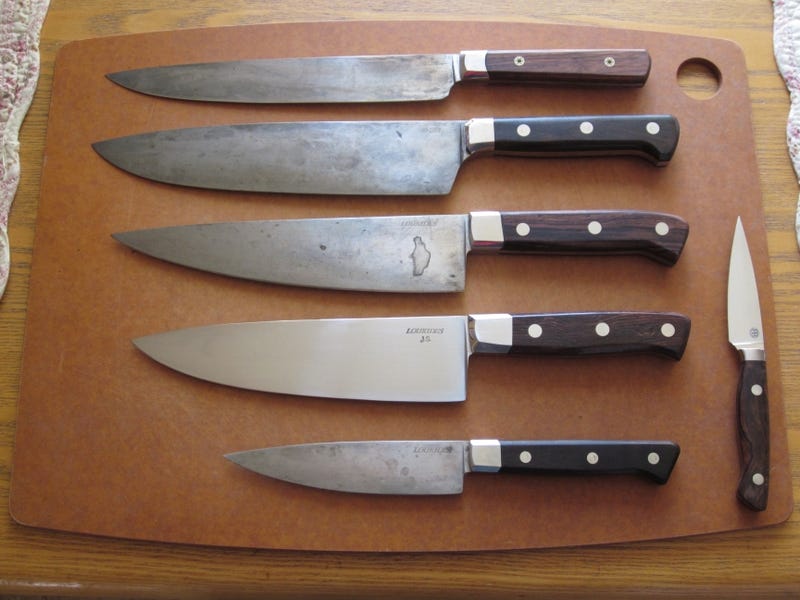 6-inch "Classic" chef's knife and 8-inch "Classic" chef's knife by WA1/4sthof ($90 to $100 each); cutleryandmore.com; "Hyde Park" 7-inch Santoku plus 3 1/2-inch paring knife ($100 for the set) by The Culinary Institute of America; metrokitchen.com
CHOOSE CHAIRS THAT CAN TAKE A BEATING
If the hub of your house is the kitchen table, you'll need stylish, lightweight chairs that last. These minimalist modern seats are versatile and go well with the Ercolani table (No. 33).
"Stax" chairs; conranusa.com; $120 each
THROW DOWN A RUG THAT ADDS SOME PUNCH
For a durable touch of warmth and style, get a bold-looking indoor-outdoor carpet made of 50 percent recycled plastic. We like Magdalena York's "Stockholm Circle," in colors like green, red, or charcoal gray.
magdalenayorkcollection.com for stores; from $125
BABYPROOF WITH STYLE
Say good-bye to ugly safety latches. Rhoost's childproof fittings prove that safety and good looks can coexist. These are made of plastic that's free of BPA, a compound linked to obesity and cancers as well as reproductive and neurobehavioral problems.
"Edge Om" table corner protector and "Sling Hub" cabinet lock; rhoost.com; $15 for four/$10 for four
KEEP A STASH OF PREP BOWLS
A set of varying sizes lets you organize ingredients just like chefs on TV do, so stir-fries, stews, and shortcakes are a lot more streamlined. Crate & Barrel's ten-piece glass set is a must-have, and the bowls store neatly, too.
crateandbarrel.com; $30
GET PERSONAL
Hanging a shallow ledge shelf and festooning it with framed photos, postcards, and mementos makes your favorite room in the house homey, welcoming, and personal.
Stainless steel 36-inch picture rail; roomandboard.com; $89
SWITCH TO GLASS
Hardier than plastic, these glass containers are dishwasher-safe, microwave-friendly, and freezer-ready; this set includes every size you'll ever need.
19-piece "Prep & Bake" set; pyrexware.com; $50
GO FOR RED CABINETS
Cabinets set a kitchen's visual tone, so get ones you love. Ikea "Akurum" cabinets in Abstrakt high-gloss red deliver high-tone looks at a low-end price. Red might sound outrageous, but it's surprisingly versatile.
ikea.com; $66 to $497